Perth's Residential Limestone Wall Experts
Creative Limestone offers you the homeowner, true expertise when it comes to the design and construction of limestone retaining walls, boundary walls and limestone screen walls for your home. We will take the time to work with you to determine what will best suit your needs, your space and your budget. We can obtain Building and Planning Approval with Engineering Certification where required and can take care of earthworks and site preparation. Check out our services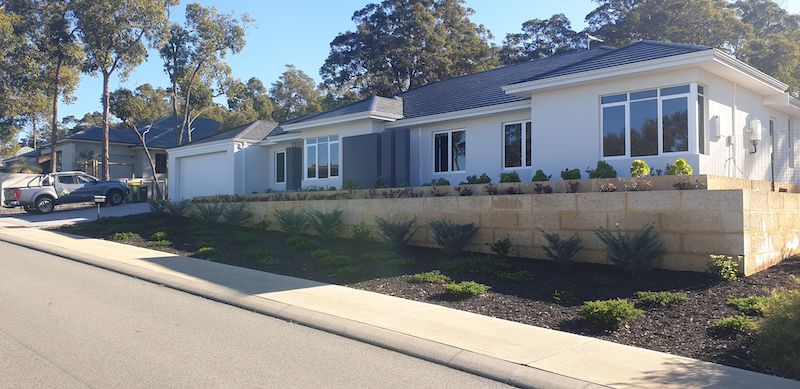 Limestone Retaining Walls
Limestone retaining walls protect the structural integrity of your home by minimising land movement especially around the foundations and boundaries. This is important for homes in Perth and the surrounding regions with loose soil conditions and land level variations. Tiered retaining walls increase the useable space by creating flat level surfaces within sloping blocks. Retaining walls also provide stability when installing swimming pools, patios, sheds, concreting, paving, lawns and gardens or anywhere there is a variation in soil height and you need a level ground surface to work on.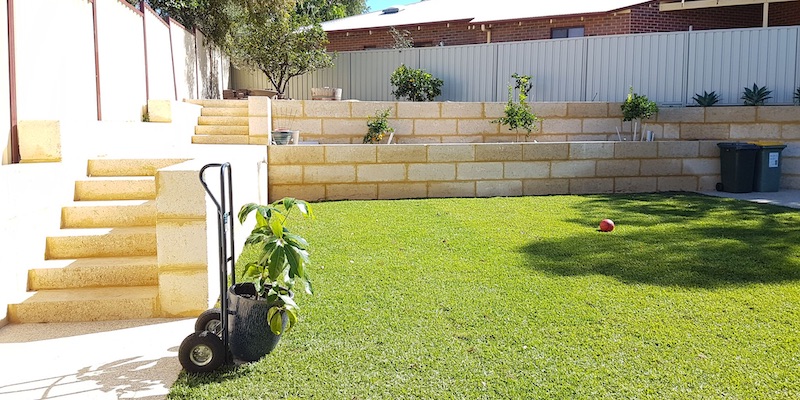 This backyard has two-tiered limestone retaining wall sections, each with a set of steps for easy access.
Any retaining wall over 500mm high requires a building permit, and planning approval from your local Council, along with engineering specifications to ensure the strength and integrity of each wall. Failing to gain the proper approvals prior to building a retaining wall could be a costly mistake, especially when it comes time to sell your home.
Limestone Boundary Walls
Limestone boundary walls are a great way to provide privacy and security, ensuring your property is effectively screened from prying eyes. If you live on a busy road a limestone wall can act as a buffer reducing traffic noise and potential damage from out of control vehicles.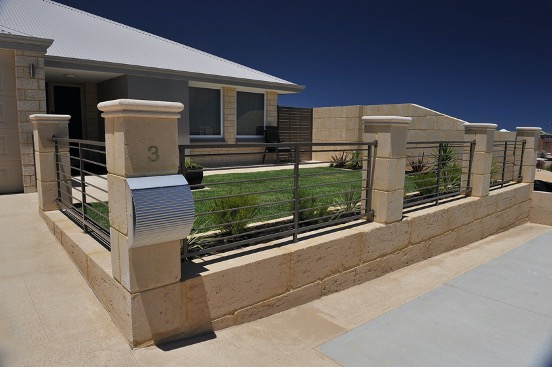 Front Limestone Retaining Screen Wall with Pier Caps and Limestone Side Boundary Wall in Secret Harbour
For quality limestone wall design, contact the WA experts!
Are you searching for a company that installs limestone retaining walls in Fremantle, across the wider Perth area and even as far south in WA as Mandurah? Our experienced team has your residential needs covered, delivering stylish designs that are not only attractive – but also incredibly strong and durable.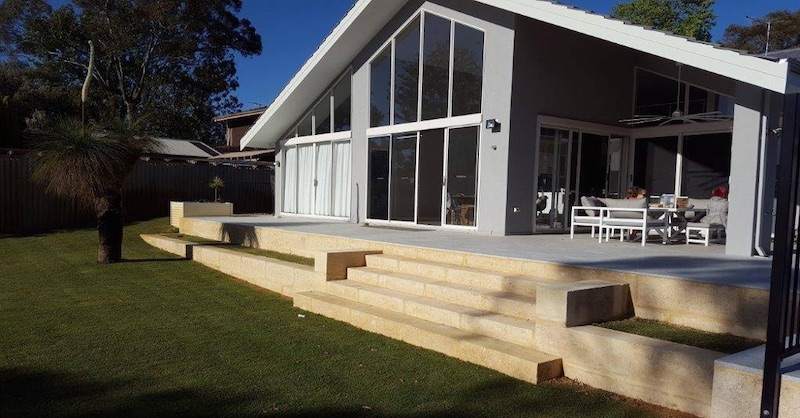 Working with the customer
If you would like an obligation free quote, get in touch with us today ask for Paul: 0408 095 604
View our Testimonials