Get The Best Limestone Retaining Walls in Perth, WA
We'll Help You Decide On The Best Limestone Retaining Walls For Your Home or New Build in Perth.
From Planning To An Impeccable Finish
We'll Help You Build A Functional And Appealing Limestone Retaining Wall
Installing Limestone Retaining Walls For Your Perth Property
Do you need a retaining wall solution to help contain the soil on your property? Are you looking for a limestone solution that adds stability, functionality, and is still aesthetically pleasing?
We're here with the perfect solution from Creative Limestone.
Get started with your retaining wall today.
Affordable & Quality Service
There's no need to break the bank to get a straightforward, functional limestone retaining wall solution. The team at Creative Limestone prides itself on providing limestone retaining walls that are both functional and affordable so that every customer is able to contain their soil in the way they need.
Plus, we don't sacrifice quality for affordability. We make sure that you receive the best possible service and that your retaining wall is made out of high-quality limestone. Know that you're working with a team that values your property as much as you do and that reflects that in the skill and materials we use on your project.
Retaining Wall Solutions For Every Landscape
No matter what type of property you have, Creative Limestone has the tools and experience needed to provide you with a working solution.
We offer limestone retaining walls for every area of your property and every purpose, such as:
Preventing soil erosion
Creating usable plant beds on steep terrain
Adding decoration to your property
Creating a beautiful landscaping feature
No matter where you need a limestone retaining wall or what kind of function you need it to serve, our team of experts is here to help!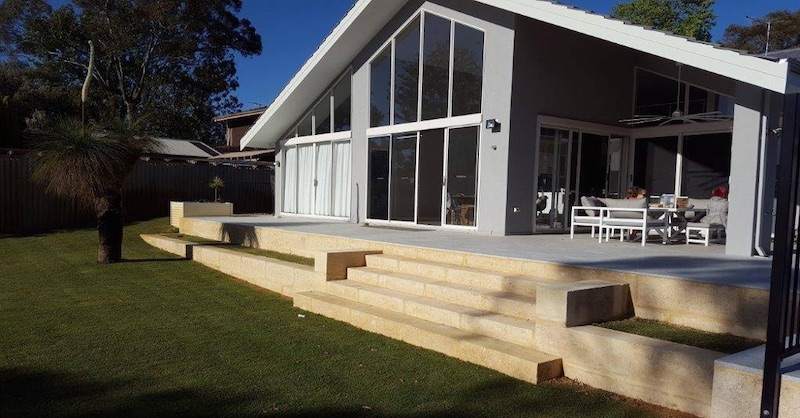 The Creative Limestone Process
Step 1: Get In Touch With Our Team
Once you're ready to get started putting in a limestone retaining wall, you'll want to reach out to our team via phone, email, or contact form.
From there, a representative will speak with you to get a better idea of why you're looking for a limestone retaining wall and how you plan to use that in your property.
Step 2: Get A FREE Estimate
Now that you've spoken with us about what exactly you're looking for, we'll put together a quote for you that outlines our limestone retaining wall services and which covers the scope of the work. We'll include every detail so that you don't run into any hidden costs after work has begun.
Step 3: Get Started Building Your Retaining Wall
It's time to get started creating the perfect limestone retaining wall for your property. We'll dispatch a contractor to your home or business and get started putting up a retaining wall that you can rely on for years to come.
Proudly Serving Perth For The Past Decade
Creative Limestone has been giving the residents of Perth, Australia the limestone retaining wall solutions they need for years. That means we've had the hands-on experience needed to provide you with an outstanding wall that you can rely on.
Build Your Retaining Wall
Don't wait until erosion has caused an issue on your property's landscape.
Reach out to our experts and start your building project today.
View a Testimonial