MEET YOUR FRIENDLY AND PROFESSIONAL TEAM
Creative Limestone is a WA owned and operated business, specialising in the construction of all types of limestone retaining walls, boundary walls, and screen walls, for both commercial and residential applications. We service areas from the South of Perth Metro area, out to the foothills and along the coast extending down to Mandurah and the Peel region. Owner operator Paul Whittleton has over twenty-three years' experience and possesses a wealth of knowledge and expertise within the Western Australian limestone construction industry.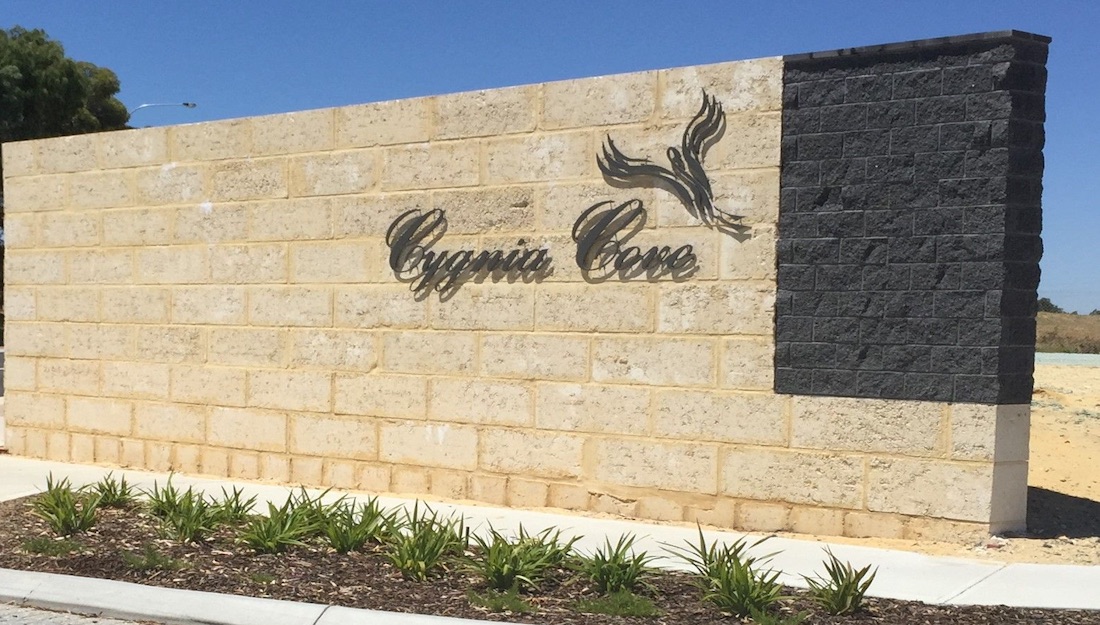 What It Is We Do
At Creative Limestone, we pride ourselves on our professional, knowledgeable, friendly and reliable service, along with our quality workmanship. We can guide you through the design, planning and building processes, taking in to account your needs, your space and your budget. We have extensive experience in a range of areas including, residential, local council works, schools, housing and commercial developments. Our team of block layers and tradesmen work together with homeowners, builders, architects, engineers and developers, during the construction process. Check out our testimonials (/testimonials)
Why Build with Limestone
Limestone is one of the World's oldest traditional building materials and is found in abundance along the Western Australian coastline. It is strong, dense and durable and comes in a neutral colour palette, suited to our lifestyle and conditions. There is a misconception that limestone is expensive but the reality is, it is comparable with brick products. Delivering a soft, natural finish, limestone is perfect if you are looking for an understated, classy finish that complements the look of your property. We can advise you on the product best suited to your building requirements.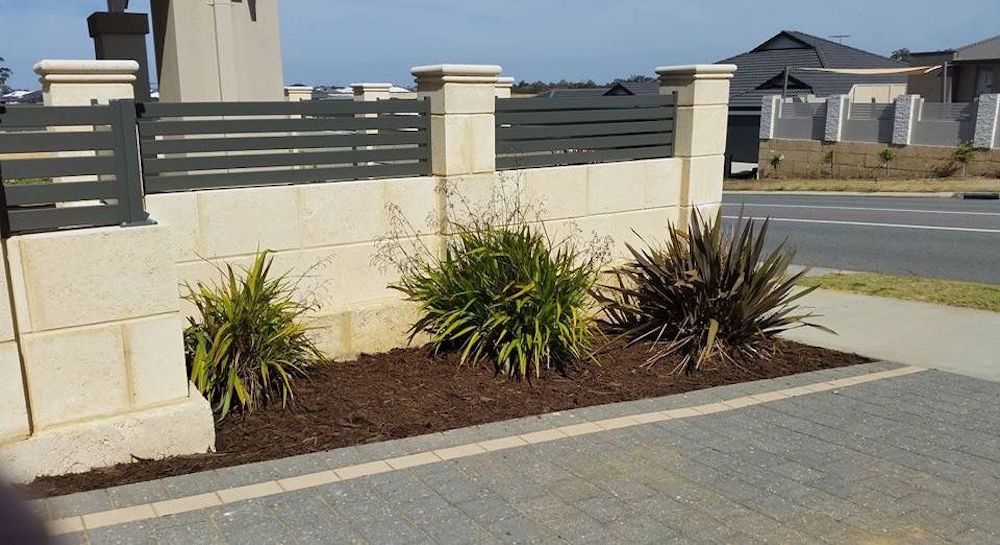 Front Limestone Screen Wall Built using Reconstituted Limestone Plain Face Blocks.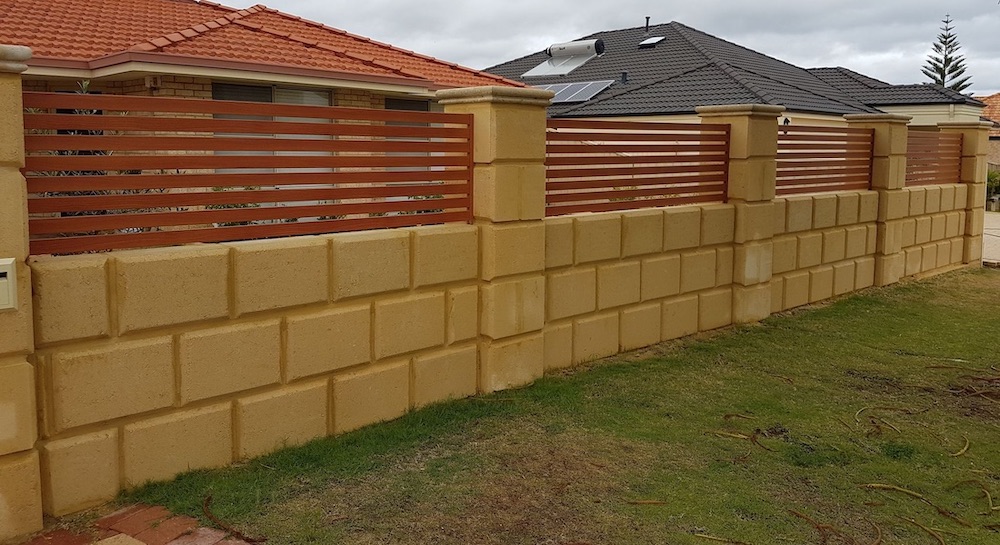 Front Limestone Screen Wall Built using Reconstituted Limestone Bevel Edge Blocks.
Reconstituted limestone blocks are manufactured by a process of mixing crushed limestone with cement, which is poured into a range of different block mold sizes. This results in a stronger product, clean uniform lines, with added thermal and acoustic properties. Reconstituted limestone blocks are one of the most economic and cost-effective building materials available, suited to a wide range of applications. Reconstituted limestone blocks come in a choice of plain face and bevel edge profiles.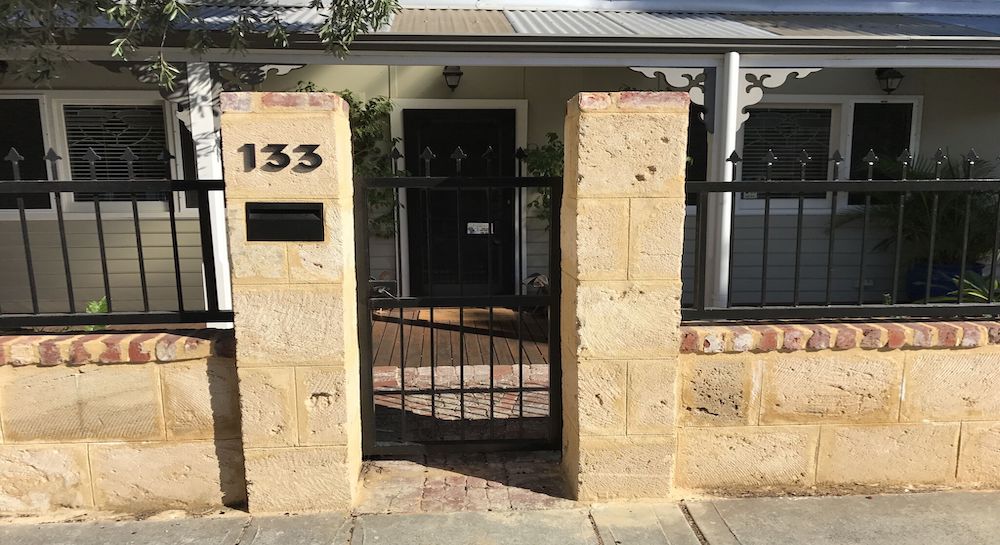 The timeless and classic beauty of traditional quarry cut natural limestone wall with red brick capping, compliments this East Fremantle cottage.
Natural Limestone Blocks are cut directly from the quarry and as the name suggests, have a natural, rustic finish, complete with chips, holes, and imperfections. While natural limestone is hardwearing, it isn't as densely uniform as reconstituted limestone and may not be suited to all applications. When you visit Fremantle, you will see limestone buildings from different eras and architectural styles. Evidence that natural limestone will withstand the elements and stand the test of time, making it a great long, term investment.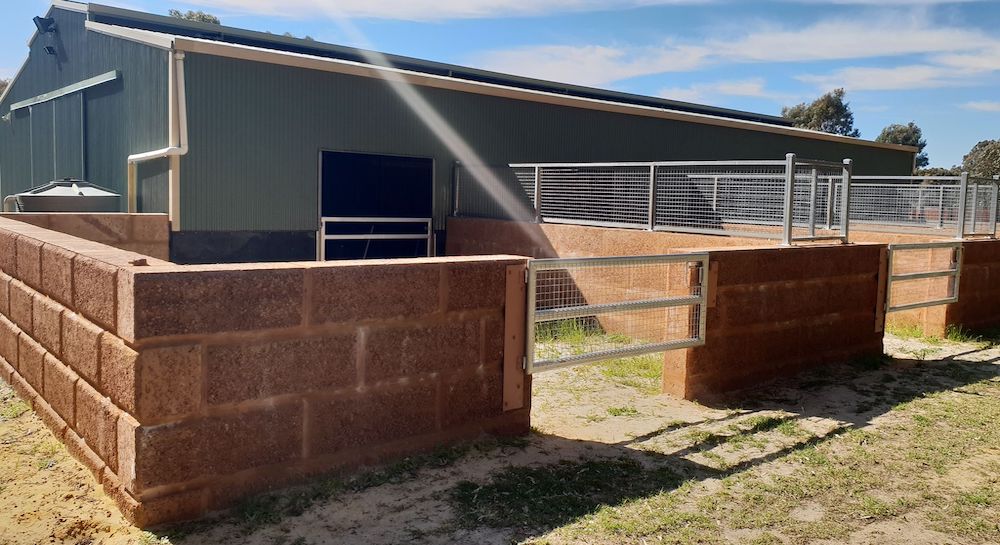 Horse Stables in North Dandalup Built from Natural Earth Blocks
Natural Earth Blocks are manufactured from laterite, which is a reddish clay material found in the Perth Hills, mixed with cement and recycled building materials. When Laterite is exposed to air, the moisture evaporates, and the moist clay material hardens into a rigid structure. This results in natural earth blocks with added strength and resistant to changes in atmospheric conditions. The earthy tones and roughened texture blend with our Australian native landscape and are perfect for walls on rural properties.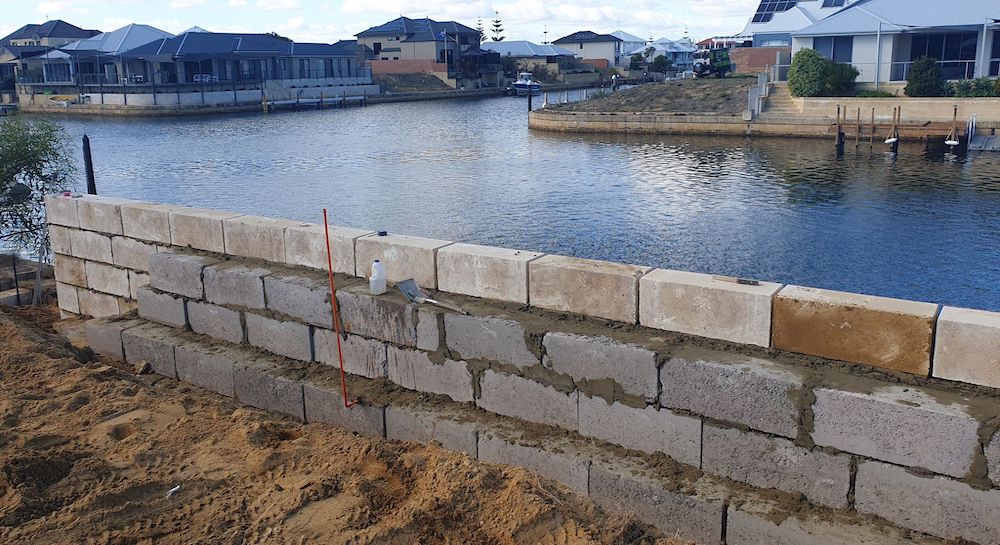 Eco Grey Backing Blocks behind a Limestone Retaining Wall on the Mandurah Canals.
Eco Grey Blocks are manufactured from recycled building material, such as concrete, bricks and, pavers, mixed with cement. This results in a colour variation which is not a concern as these blocks are used as backing blocks where the face will not be seen.
Working with the customer
We will take the time to work with you to determine what will best suit your needs, your space and your budget. Alternatively you can provide your own design or landscape architectural plans and we can bring your vision to life. Services