---
21 August 2023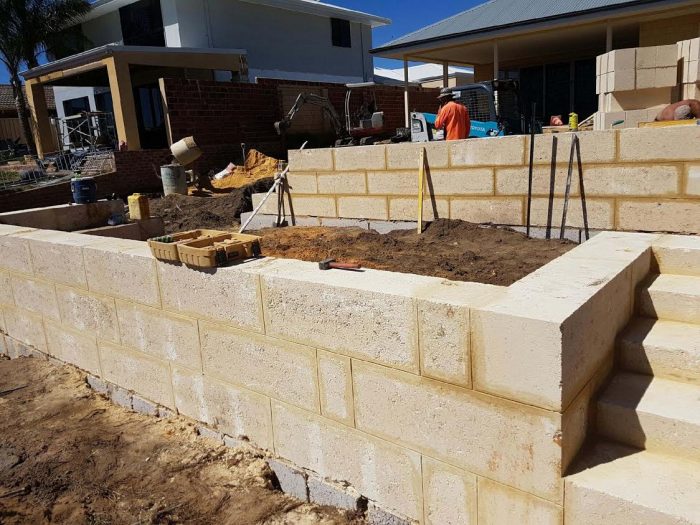 Types of limestone blocks in Perth WA
In Perth, Western Australia, several limestone blocks are commonly used for various construction and landscaping purposes. These limestone blocks come in different colours, textures, and sizes, and they are often used for building retaining walls, fences, pavers, and other outdoor structures. Some of the common types of limestone blocks found in Perth include:
Tamala Limestone:
This is one of the most popular types of limestone used in Perth. It's known for its creamy white to light beige colour and fine grain. Tamala limestone is often used for walls, pavers, and other outdoor features.
Quarry Cut Limestone:
This limestone is extracted from quarries and cut into various sizes and shapes. It can have a rougher texture and a more natural appearance, making it suitable for retaining walls and garden edging.
Diamond Cut Limestone:
This limestone is cut with precision to create clean lines and a more modern appearance. It's often used for more contemporary landscaping and construction projects.
Reconstituted Limestone:
Reconstituted limestone blocks are manufactured using a mixture of crushed natural limestone and concrete. They come in various finishes and can mimic the appearance of natural limestone while offering more consistency in size and shape.
Weathered Limestone:
Weathered limestone blocks have a more aged and textured appearance, which can add character to outdoor spaces. They are often used for creating rustic-looking walls and features.
Flint Limestone:
Flint limestone is known for its distinctive darker streaks and patterns. It can add a unique visual appeal to walls and other structures.
Crème Limestone:
This type of limestone has a light beige to cream colour, similar to Tamala limestone, but it might have subtle differences in texture and appearance.
Silver Limestone:
Silver limestone typically has a lighter grey colour and can be an excellent choice for achieving a modern, sleek look in landscaping projects.
Massive Limestone Blocks:
These larger blocks are often used for more substantial retaining walls and heavy-duty construction projects. They can provide stability and durability to various structures.
When selecting limestone blocks for your project in Perth, it's essential to consider factors such as the aesthetic you're aiming for, the intended use of the blocks, and your budget. It's recommended to consult with local suppliers and professionals who specialize in landscaping and construction to get personalized advice based on your specific needs. Remember that availability of particular types of limestone blocks may vary based on market trends and local suppliers.
---
All Categories
---
All Tags
---
By Month
---